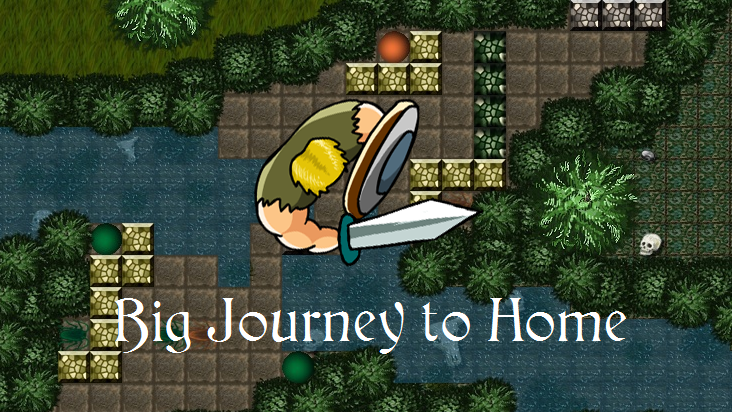 Big Journey to Home
Hi all, dear Big Journey to Home fans!
I'm thought a lot after the Xbox One release and decided to make the last update. Last update was released about 3 years ago. And as result, I was worked 20 days with a few new functionality and bug fixing.
I'm thought about increasing Xbox One version, and other versions too. I knew that cooperative game mode is not popular and I was added this levels for playing alone. Now you can complete it. New 40 rooms for single player! I named it "Side story", you can change stories from main menu in top right corner. But how it can be played, if you must play with 2 characters? Switching through Tab button, it's simple! By the way, cooperative game is now fully fixed, earlier few rooms causes crashes.
Next, I wanted to redesign dialog system. Earlier they are appeared above speaking character and was pretty small. Now they're big and appearing below screen, character name is write before a dialog. It's good choice for small screens! If you don't like this appearance, you can change dialog system in settings.
According to your wishes BJtH-Online linking is now optional. In main menu registration window isn't appeared every time, achievements and leaderboards are now working without BJtH-Online registration. Unfortunately, for technical reasons achievements are still requires Internet connection, and if registration in BJtH-Online had complete after getting Steam achievements, they can't be transferred.
Last thing that I wanted to make was modify macOS version until fully working state. Now it's fully working! Also, iOS version is built, and the game changed game engine. Now it's GMS2. Unfortunately, game is not working on 32-bit OS Linux and Windows XP. Saves from older versions also may be not work.
Game has more new useful functions, but this post is too big, so, as usual, I will show full changelog below. And check this new update trailer. Thank you all for game supporting!
Also, because update is released, you can buy the game in main stores for 50% discount for a week, in Microsoft Store 20%. Hurry up!
Full changelog:
Cooperative game for playing alone was added
Main menu was redesigned, now you can switch the campaign through the Tab button
New dialog output system was added, now dialogs of heroes are displayed below
Achievements and Steam leaderboards now working independently of BJtH-Online
Game engine was updated, increased system requirements
Faster routes were added for some rooms
The iOS version is out of beta
Game crashes when displaying message boxes in the version for macOS were fixed
Input and login message boxes was redesigned
Game controls was redesigned. Now all the layouts work simultaneously, you can turn on touch controls in the settings
Gamepad control was improved
Some critical bugs in the cooperative game were fixed
Bug with the displaying room numbers in version for Xbox One was fixed
Portrait of Jack in the cooperative game was added
BJtH Updater for Linux was fixed
Updated the news feed
Some cosmetic issues and translation inaccuracies were resolved
Yours, Silver Sword.

Files
BJtH for Windows 1.3 - Installer
62 MB
Jan 05, 2019
BJtH for Windows 1.3.3 - itch.io App
46 MB
BJtH for macOS 1.3 - Installer
51 MB
Jan 05, 2019
BJtH for macOS 1.3.3 - itch.io App
57 MB
BJtH for Linux 1.3 - Installer
44 MB
Jan 05, 2019
BJtH for Linux 1.3.3 - itch.io App
47 MB
BJtH for Android 1.3
59 MB
Jan 05, 2019